People
H. G. BELL (1893-1981)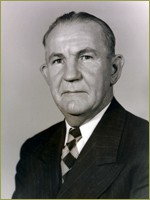 H. Glenn Bell was born on a farm in Ohio in 1892. He graduated from the University of Cincinnati and attended its medical school, and he was an intern and a resident at Cincinnati General Hospital. He completed his chief residency there in 1929, serving under Mont Reid, one of Halsted's famed chief residents.
On the basis of his Halstedian training, Bell was recruited to UCSF as head of the Division of General Surgery by Howard C. Naffziger who encouraged him to build a formal training program. Dr. Bell was chairman of the Department of Surgery from 1946 to 1956. From 1930 until his retirement in 1960 he worked with and trained hundreds of students, interns, and residents in surgery and many of these moved into the California community to practice excellent technical surgery. His students long remembered him as "the doctor's doctor," a man of "warmth, frankness, honesty and sincerity ....who felt it was a privilege to operate upon a patient." In 1961, he was awarded an honorary doctor of law degree from the University of California and an honorary doctor of science degree from the University of Cincinnati. He continued his private practice in San Francisco until 1969.
References:
For more detail on the history of the UCSF Department of Surgery, see the UCSF Campus Oral History program's series of interviews, housed in the UCSF library.