People
WILLARD CORWIN FLEMING (1899-1972)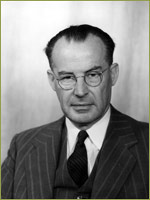 Willard Fleming was born in Sausalito, California on October 11, 1899. Urged by his father to seek the independent professional career available to a dental graduate, Willard Fleming entered the UC College of Dentistry in the wartime year of 1918, joining one of the largest classes in the dental college's history. In 1923 he graduated with the degree of D.D.S, and in 1924 he became part-time instructor in operative dentistry. His research interests stemmed from his participation in the periodontal disease research group conducted at San Quentin while he was a second year student. Eventually he published numerous papers in the field of periodontal research.
After fifteen years on the dental faculty, he was appointed dean in 1939. His popular style of leadership was first demonstrated in his student days when he served as president of the student body during a time of student unrest and faculty discord, and throughout his life he was known for "his ability to evaluate and understand opposing factions in difficult interpersonal relationships." Colleagues remembered that, "his judgments were clean and free of personal bias and his acceptance was widespread."
As he took on the deanship in 1939, he focused on enhancing basic science instruction and recruiting research-oriented faculty. He served as dean for twenty-six years (1939-1965) and during this time the college of dentistry faculty appointments and the student body doubled, and university budgetary support increased several hundred percent. In 1956 the College of Dentistry officially became the School of Dentistry.
Forever concerned with advancement in dentistry and dental education, Dr. Fleming surveyed the profession and established a landmark program in postgraduate dental education. He remained active in professional organizations, serving as President of the American Association of Dental Schools and the American College of Dentists. He was chairman of the council on Dental Education of the American Dental Association, and active in the American Association for the Advancement of Science. He was a Fellow of the American College of Dentists and received honorary degrees from the University of Southern California, the University of Toronto, and the University of California.
In his later years as dean, Dr. Fleming recognized the importance of the decentralization of the University and the development of a coherent administration on the San Francisco campus. In 1959 he was appointed vice provost of the San Francisco campus by UC President Clark Kerr, and served in that post for five years, until he became vice chancellor and dean of students. When a campus-wide controversy over leadership developed in the mid 1960s, the UC Regents appointed Dr. Fleming as second Chancellor of the San Francisco campus, (1966-1969) in an effort to stabilize administration. His well-earned reputation as a consummate leader who had great understanding of human relations allowed him to serve as an effective campus administrator during the troubled social and political atmosphere of the late 1960s. He is credited with preparing the way for development of UC San Francisco's exceptional program in affirmative action for socio-economically disadvantaged students. After a forty-five-year career in University service, he retired from the Chancellorship in 1969, and died in 1972. His peers remembered him fondly as "a man of good humor, whose wit was keen, but never sharp. Everyone who knew him is a little finer human being for having known Bill Fleming."