People
KATHARINE J. SCOTT BISHOP (1889-1975)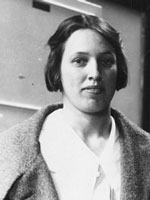 Katharine J. Scott Bishop was a pioneering medical researcher, physician, and educator who is best known for co-discovering Vitamin E.
Born in New York on June 23, 1889 she attended the Somerville Latin School in Massachusetts and in 1910 earned an undergraduate degree from Wellesley College. After premedical courses at the Radcliffe College, she enrolled in The Johns Hopkins University School of Medicine and graduated with a medical degree in 1915. That year she moved to Berkeley and until 1923 she taught histology at the University of California Medical School Department of Anatomy. She also pursued her medical research with anatomist and endocrinologist Herbert M. Evans. In 1922, during feeding experiments on rats, they discovered that rats did not reproduce when fed a semi-synthetic purified diet in which lard was the sole source of fat. They observed that a "substance X" in lipid extracts of various grains would correct the fertility defect. The same year these findings were published in the "Science" magazine in a joint article entitled "On the existence of a hitherto unrecognized dietary factor essential for reproduction."
For five years starting in 1924 Dr. Bishop held a position of histopathologist at the George Williams Hooper Foundation for Medical Research in San Francisco. After her marriage to the attorney Tyndall Bishop and the birth of her two daughters, Bishop focused on her family. In 1930s she studied public health at the UC Medical School. After her husband health declined she became a practicing physician and anesthesiologist at St. Luke's Hospital in San Francisco. From 1940 until her retirement in 1953 she worked at Alta Bates hospital in Berkeley. Dr. Bishop was an active member of the Association for the Advancement of Science and the Society for Experimental Biology and Medicine. She died in 1975 at her home in Berkeley.
References:
University of California, San Francisco. School of Medicine Announcements. Announcement for 1915-1916. Archives and Special Collections, University of California, San Francisco.

Oakes, Elizabeth H. Encyclopedia of World Scientists. New York: Facts on File, 2007. P. 67-68

Bailey, Martha J. American Women in Science: A Biographical Dictionary. Santa Barbara, Calif: ABC-CLIO, 1994.

Evans HM, Bishop KS. On the existence of a hitherto unrecognized dietary factor essential for reproduction. Science. 1922 Dec 8; 56(1458):650-1.
image credit: Katharine J. Scott Bishop. Smithsonian Institution Archives. Image SIA2009-3085.