People
PHILIP RANDOLPH LEE (1924-2020)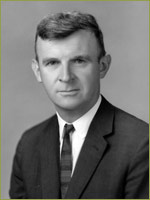 Philip Randolph Lee was born in California, the third son of Dr. Russel Van Arsdale Lee, founder of the renowned Palo Alto Clinic. Eventually all five of the Lee children became physicians and practiced in California. Phil Lee graduated from Stanford and earned his M.D. there in 1948. He then volunteered for Navy Medical service and was in active sea duty in the Inchon Invasion. After his Korean War service, he completed postdoctoral training at Howard Rusk's Institute for Physical Medicine and Rehabilitation in New York, and also completed a research degree, (M.S.,1955) at the University of Minnesota on a Mayo Clinic fellowship.
In 1963 he was recruited by Dr. Leona Baumgartner to serve in Washington D.C. as Director of Health Services for the U.S. State Department's Agency for International Development(AID) where he worked on malaria eradication, nutrition, and family planning. After two years at AID he planned to return to practice at the Palo Alto Clinic, but he was called to serve in the Johnson administrations and was appointed Assistant Secretary for Health and Scientific Affairs in John Gardner's Department of Health, Education, and Welfare (DHEW). Characterized by the contemporary press as "the doctor's doctor in Washington," he worked to implement Medicare, chaired the task force on prescription drugs, and developed health manpower and family planning policies. He left federal service soon after Nixon took office, and in February 1969 he agreed to become third Chancellor of UCSF, in the midst of national and local political turbulence over civil rights and the Vietnam War.
Philip Lee brought his reformer's perspective to his administration at UCSF, and worked to implement an affirmative action policy, and organize the basic sciences into a "fifth school," a plan that met defeat at the hands of the Reagan governorship. In 1972, after three years as chancellor, he resigned and began immediately to organize an innovative Health Policy Program at UCSF. Dr. Lee's Washington contacts and his proven expertise in health policy were assets to the new program, which received substantial extramural grant support, and soon developed into a National Health Services Policy Analysis Center funded by DHEW. By 1981 the program was officially designated a University of California Organized Research Unit and was named the UCSF Institute for Health Policy Studies (IHPS). The IHPS continued to produce cutting-edge health services research in such areas as determinants of health, medical technology and health care costs, prescription drugs, health manpower, and ethical issues in health care, and IHPS faculty provided expert assistance to federal and state agencies as well as national foundations. In addition, the Andrew W. Mellon foundation, the Robert Wood Johnson Clinical Scholars Program, and the Pew Memorial Trust awarded the Institute several substantial educational grants that expanded and supported postdoctoral training in health policy and health services within the IHPS.
The Institute began HIV/AIDS related research in 1982, and three San Francisco foundations funded the establishment of the AIDS Health Services Research program to conduct policy analysis and provide technical assistance at the local state and federal level. In 1985 Mayor Diane Feinstein named Lee the first President of the San Francisco Health Commission, a challenging position during the AIDS epidemic, for the commission was the governing body of the city and county health department.
In 1986 when Congress established the Physician Payment Review Commission to reform Medicare, Philip Lee was named to head the Commission, and shaped the reforms adopted by Congress in 1989.
In summer of 1993 Lee was once again called to Washington to serve as Assistant Secretary for Health in the Department of Health and Human Services during the Clinton administration.
During his long and varied career Philip Lee has published more than 150 articles and co-authored many books in the health policy field, including Pills, Profits and Politics, with Milton Silverman. He has edited seven editions of the popular volume, The Nation's Health. He has served on the boards of many organizations, such as the Henry J. Kaiser Foundation, the World Institute on Disability, and the Glide Foundation of the Glide Memorial United Methodist Church. He is a former trustee of the Carnegie Corporation of New York. In 1998 he received the David Rogers Award from the Association of American Medical Colleges. In 2000 he was given the Institute of Medicine's Gustav O. Lienhard Award for "outstanding national achievement in improving personal health care services in the United States," as well as the American Public Health Association's Sedgwick Medal. In 2001 the California Public Health Association presented him with the Henrik Blum Award.
Philip Lee served as Director of the UCSF Institute for Health Policy Studies from 1972 to 1993, and in September of 2007 the IHPS was renamed the Philip R. Lee Institute for Health Policy Studies in his honor. He continued as Senior Scholar at the Institute, and Professor emeritus of Social Medicine, in the School of Medicine at UCSF. Throughout his career he had been advisor, mentor and teacher to scores of students, fellows and peers, many of whom have advanced into important posts in corporations, government, and education.