People
MARY MAY PICKERING (1888-??)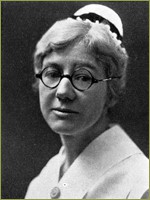 Mary May Pickering was born in 1888 in southeastern Ohio, the seventh of ten children. By the time she reached adolescence, both of her parents had died, but she persisted in pursuing an education and graduated from Berea College in Kentucky. She then chose a nursing career and received her diploma from the well-respected training program at Massachusetts General Hospital. In 1916 she came to California to work as a graduate nurse on the UC Hospital staff, recruited on the strength of good recommendations from her mentors in Boston. In the makeshift first University Hospital located in the Medical School Building, she began work on the women's ward, and was soon head nurse of the men's ward. Throughout this time she worked with other nursing staff to design nursing units for the opening of the new UC Hospital building in August of 1917. When World War I intervened, she volunteered as a Red Cross Nurse. From there she served briefly as head nurse on the TB wards at SFGH, and as assistant superintendent of the University of Michigan Hospital, until 1921 when she was recruited back to UC as nursing superintendent and director of the Training School for Nurses.
Miss Pickering's background in both academics and nursing education created an important connection between nursing activities on the Berkeley and Parnassus campuses. She was known for her efforts to make the nurses' dormitory more comfortable for students, she allowed smoking and bobbed hair, and encouraged students to participate in professional organizations. Her tenure as director of the Training School (1922-1926) was characterized by the gradual alignment of the nursing program with academic University traditions, and in 1923 she obtained academic senate approval for the nursing curriculum. In 1927 she was appointed assistant professor of nursing education in the Department of Hygiene at Berkeley, the first to occupy the academic chair endowed by the California State Nurses' Association. In this position, she developed a postgraduate professional program in nursing education and administration. On a sabbatical year in 1931 she traveled to Europe and studied psychology in Zurich with Dr. C. G. Jung.
She was also very active in professional circles in California, working at various times as committee member and officer of the California League of Nursing Education, the California State Nurses' Association, the San Francisco County Nurses' Association, and served on the editorial board of the Pacific Coast Journal of Nursing. She wrote and presented numerous research papers on leadership training, budgeting, and basic science instruction in training schools and was a consistent representative of UC in the National League of Nursing Education.
Mary May Pickering was active in the national search for her successor, and left California in early 1934, traveling to London to marry Dr. Culver Barker, a Jungian analyst. At the time she left UC she declared, admitting her optimism, "I believe that for the first time in our history nursing education at the University is ready to make rapid progress." Although the process of transforming of the training school into a fully academic school of nursing would last for nearly two decades, her departure in 1934, along with the resignation of training school director Eleanor Waterman, opened up the opportunity for programs at Berkeley and Parnassus to be united under a single individual. In 1934 Miss Pickering's successor, Margaret Tracy, became superintendent of nursing, director of the training school, and acquired administrative responsibility for the Division of Nursing Education at Berkeley.