People
ROBERT LANGLEY PORTER (1870-1965)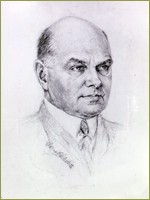 R. Langley Porter was born in Montreal, Canada in 1870. He attended Pennsylvania Military Academy, then came to California obtaining a teaching post in chemistry in 1891 at Cooper Medical College. Intrigued by medicine, he enrolled as a medical student in the Cooper Medical College, graduating in 1896 and completed extensive postgraduate education. He traveled extensively in Europe and studied in London, becoming a licentiate of the Royal College of Physicians and studying pathology and pediatrics in Freiburg and Berlin. Returning to San Francisco, he became one of the city's first pediatricians with a successful private practice. His interest in pediatrics prompted him to join the Stanford faculty in charge of the Cooper Pediatric Clinic, where he began clinical teaching. In 1906, Porter served as City Physician for Communicable Diseases, and some credit him with averting an epidemic of plague following the earthquake by his efforts to rid the city of rats. He was responsible for obtaining city support for the first clinical laboratory at the county hospital. Poor health interrupted his career until he joined the University of California faculty in 1918, becoming a lecturer in pediatrics.
In 1927 Dr. Porter was called from a European tour to become dean of the UC School of Medicine by University President W. W. Campbell. Long interested in teaching, he accepted the offer and returned to Parnassus to initiate major reforms during the interwar period. As an inducement to Porter, President Wheeler strengthened the office of the dean, making the dean's office the sole conduit to the university and the regents, with full authority in matters of recruitment and finance. One of R. Langley Porter's first acts as dean was to move second-year clinical sciences of Bacteriology and pharmacology back to Parnassus in 1928. During the lean Depression years, he presided over the state-funded building of the Clinics Building and secured California Department of Mental Hygiene support for creation of the Langley Porter Clinic, later the Neurospsychiatric Institute. He retired from the deanship in 1940 at the age of seventy. He died at the age of ninety-five in 1965.
References:
"Robert Langley Porter, Physician, Teacher, and Guardian of the Public Health," Interviewed April 29, 1960 by Edith Tartaul Daniel, for the Regional Cultural History Project, Regional Oral History Office, Bancroft Library, UC Berkeley.